Heritage & Traditions at Aquinas College
Aquinas College History at a Glance
Many Names, One Mission. Aquinas College History at a Glance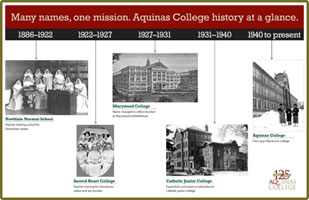 Note: Click on the image above to view a larger version (pdf)
1886
The institution now known as Aquinas College starts its life in Traverse City, Michigan as the Novitiate Normal School of Dominican Sisters who came to Michigan in 1877 to teach in Catholic parish schools..

1922
Novitiate Normal School, now located at Marywood in Grand Rapids, changes its name to Sacred Heart College and admits lay women for the first time.

1927
Sacred Heart College changes its name to Marywood College to reflect its location.

1931
Marywood College becomes Catholic Junior College, with support from the local bishop, and begins admitting male students. Located on Ransom Ave. in downtown Grand Rapids, it becomes the first co-ed Catholic college in the United States to be administered by a congregation of religious women. In the late 1930's CJC adds a third year of courses and eventually makes plans to become a four-year college.

1940
CJC becomes the four-year college called Aquinas College.

1945
The Dominican sisters purchase the former Lowe estate in Southeast Grand Rapids and move most of the college departments to the current location. The Ransom Avenue properties continue to be used for science, music and evening classes until 1955 when the campus was consolidated.

1950's - 1960's
Campus undertakes a building boom with the addition of Administration Building, Regina Hall, St. Joseph the Worker Hall, Wege Center, Albertus Hall, House of Studies, and Physical Education and Assembly Building.

1960's - 1970's
Aquinas College becomes a leader in adult continuing education, all the while building and maintaining its reputation as a premiere Catholic liberal arts college.

1980's - 1990's
Further expansion and growth of the campus, adding East area buildings, Ravine apartments, soccer field, graduate programs.

2000+
Aquinas College enters the 21st century ready to meet the challenges of the new millennium with the addition of a new Performing Arts Center, the Grace Hauenstein Library, a renovated Sturrus Sports & Fitness Center, and new academic majors and graduate programs like Sustainable Business.

The History of Holmdene Manor
A detailed timeline of Holmdene from construction to present day including the creation of the Holmdene Historical Society.

About This Website
This website is maintained by the Aquinas College Historical Commission whose mission is to preserve and promote the College's history. The site is divided into sections which provide a decade-by-decade snapshot of the College's growth and its traditions.
No history of an institution that is over one hundred years old can be complete, and this website can only highlight what seemed, to the editors and members of the Aquinas College Historical Commission, to be highlights and interesting sidelights of our heritage and traditions.

Contact us:
We encourage alumni, former staff and faculty, and friends of the College to browse through these pages and to contact us with their own stories of Aquinas College. We are seeking further archival material, especially photos from the 1970's and 1980's, an era when college yearbooks went out of fashion and were not produced regularly by students. If you would like to talk with us about donating material to the archives, or would like to loan us materials for electronic scanning, please contact the Aquinas College Archivist.

Navigating "Heritage and Traditions":
This website is arranged conveniently in a decade-by-decade timeline accessible through any page. You can browse through our history chronologically or you can link directly to the decades in which you are interested.
We hope you enjoy this scrapbook of memories and history, and we encourage you to contact us with your comments.

Credits & Acknowledgements:
Web page project coordinator and text editor: Gary Eberle
Members of the Web page committee: Sr. Jean Milhaupt O.P. '45, archivist; Chuck Frydrych '63; Dick Sedlecky '51; Dr. Jason Duncan; Kelli Herm '05; Katy McAvoy '01; Dr. Norbert Hruby; Tony Nolan '66; Rene Palileo '98.
Special thanks to Chad Buczkowski of the Library Media department for help in scanning images and to Katy McAvoy for web page content inputting.
Special thanks to Peter Wege for underwriting past projects of the Aquinas College Historical Commission.
Special thanks to Brad Vedders for the digitalization of the audio clips and to ITS for help in scanning and converting the audio links from "Historically Speaking."