Heritage & Traditions at Aquinas College
2010
Lacrosse: Men's lacrosse starts as a club team in 2009, then goes varsity in 2010. Women's lacrosse holds its first season in 2010 and triumphs over all comers with a 29-2 record and regional runner up title under coach Frank Rogers.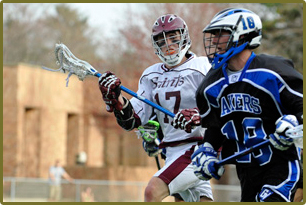 Men's lacrosse makes use of the new artificial turf field for its fast and furious sport.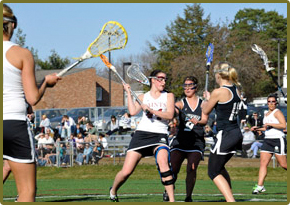 In their inaugural season the women's lacrosse team swamped the competition with their 29-2 record.
A masters degree in Sustainable Business is inaugurated to build on the success of the bachelor's degree in this same area. The Center of Sustainability is founded to be a resource for the college and area businesses on sustainable practices and new developments in the field of sustainability.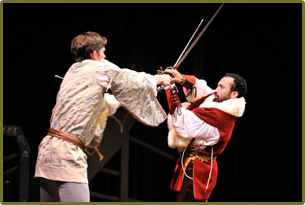 The Performing Arts Center becomes the main stage for Aquinas's revitalized
theater program.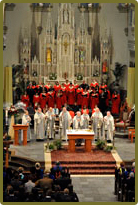 The festivities surrounding graduation day, including the baccalaureate mass and commencement ceremony, remain a highlight of the academic year for students, faculty, staff and parents.
Phase I of the Fieldhouse renovation opens with the unveiling of the new Sturrus Sports & Fitness Center. With fitness equipment for use by students and student athletes, and a new playing surface for indoor sports, the Center looks like a new facility even though the essential footprint and structure of the building is the 1969 Physical Education and Assembly Building. Fundraising for Phase II of Sturrus, a wing that will house indoor practice areas for baseball and softball as well as an indoor track, continues.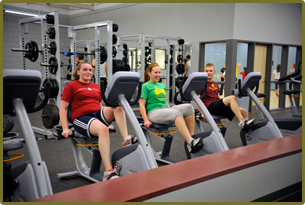 The Sturrus Sports & Fitness Center offers a modern workout room for students and staff.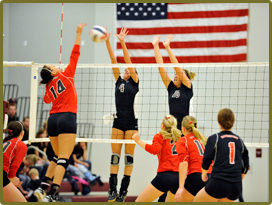 The reconfigured gym and new floor provide a fresh new venue for Aquinas' indoor sports, including basketball and volleyball. Student athletes were displaced for a year while the old Physical Education and Assembly Building, originally opened in 1969, underwent a massive facelift to become the Sturrus Sports & Fitness Center, a premier athletic facility.
The Board of Trustees develops a new strategic plan, "Vision Twenty20: Creating a Habit of Mind," to guide the College development over the next ten years.
2011
The Higher Learning Commission, formerly known as the North Central Association of Colleges and Schools, concludes its March visitation giving Aquinas College a ten-year reaccreditation, its highest recommendation.
Dr. Edward Balog, having successfully guided the school through the re-accreditation process, announces his retirement, effective June 30. On leaving campus, Balog believes his legacy is to have focused on academic excellence across the disciplines and developing a new level of professionalism among the faculty.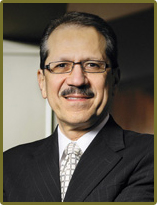 After Dr. Balog's announcement of his intended retirement, the Board of Trustees appoints a search committee which conducts a limited search, inviting selected individuals to apply for the vacant position. In April, the Board announces its choice of Dr. Juan Olivarez to be the seventh president of Aquinas College effective July 1, 2011.
(At right:) Dr. Juan Olivarez, a 1971 graduate of Aquinas College and former president of Grand Rapids Community College, is selected by the Aquinas College Board of Trustees to be Aquinas's seventh president, starting his term after Dr. Balog's June 30 retirement.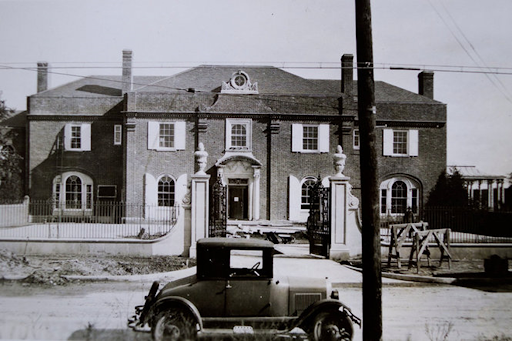 Brookby: Sam Cummings, property manager of CWD Real Estate, endowed Brookby to Aquinas College. Located at the corner of Plymouth Avenue and Robinson Road, and built in 1926 as a retirement home for John Blodgett Sr., the estate boasts five acres that include the original manor, two smaller houses, gardens, storage facilities, and access to Fisk Lake. Blodgett Sr., a lumber baron from England, was the brother of Susan Lowe, who was married to Edward Lowe, owner of the Holmdene Estate. The Brookby Estate serves as an entertaining venue for Aquinas sponsored events, as well as the permanent residence for the College President. The acquisition of the Brookby Estate is a fulfillment of Cumming's vision to unite the Estate with the Holmdene Estate.
2011 - 2012
Aquinas College celebrates its quasquicentennial, or 125th anniversary, with several signature events to honor the four Dominican charisms which have guided the college since its beginning as Novitiate Normal School in 1886. Prayer, study, service and community are celebrated with public ceremonies, a book written by English professor Gary Eberle, and plans for Dominican Heritage Plaza, a redesigned space between Wege Center and the Academic Building.
2012
A New Addition: Aquinas College purchases another house, 1903 Robinson Rd SE, This house was built in 1905 and will be renamed Sister Mildred Hawkins Hall. Eight upperclassmen students will live in the house.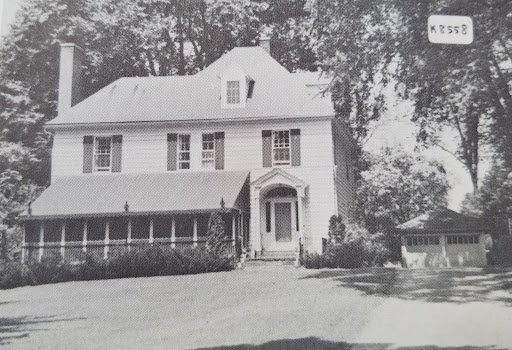 2013
Hockey and Bowling: Men's hockey and bowling teams wrap up their first ever seasons, with the hockey team winning 15 games in its first season.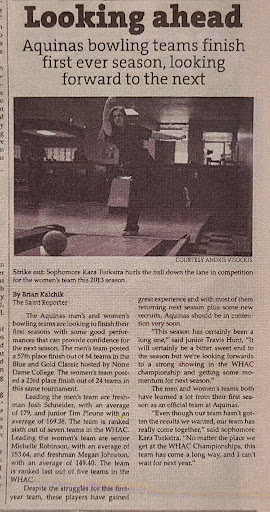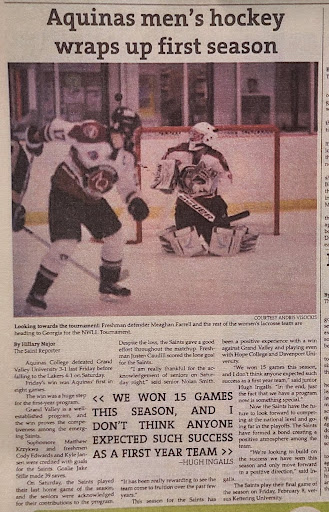 2014
New Apartment Building: Aquinas builds its fifth apartment building, St. Rose of Lima Hall. This apartment was built in the same design as St. Martin de Porres built in 2009.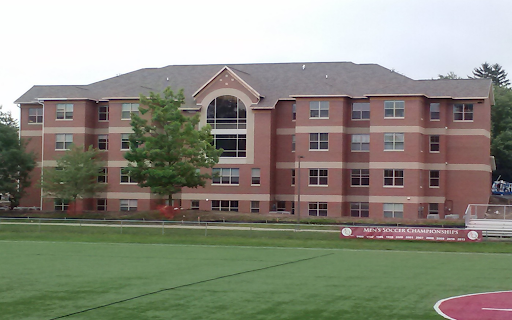 Alksnis Athletic & Recreational Building serves as an addition to the Sturrus Sports and Fitness Center, which opened in 2010. The addition houses a 200 metre NCAA-certified track. Several intramural sports, including lacrosse, golf, baseball, softball, and basketball conduct practice in the new building.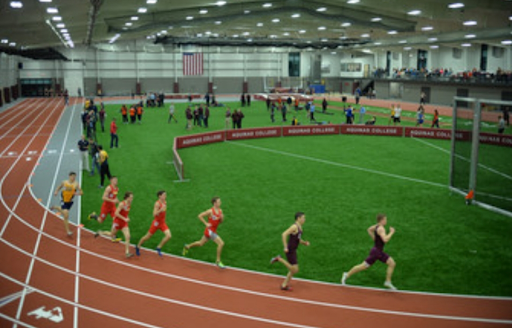 The start of women's hockey is announced.

2014
The AQ Advantage Center opens to afford students a broader college experience. Encompassing career services, internships, research, and study away programs, the AQ Advantage Center, located in Mother Victor Flannery Hall, seeks to enrich students' professional and personal growth, while preparing students for life after graduation.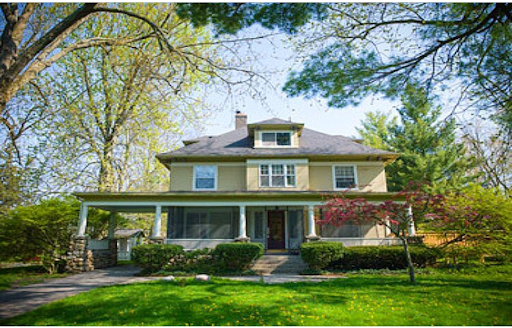 A New Entrance: After 71 years of entering the College through Robinson Road, the main entrance and address changes to 1700 Fulton Street E. A large, sweeping drive opens with a 17 foot statue of St. Thomas Aquinas, sculpted by Jay Carpenter. Below the sculpture, seasonal flowers and plants welcome students, alumni, staff, faculty, and visitors into the heavily wooded campus.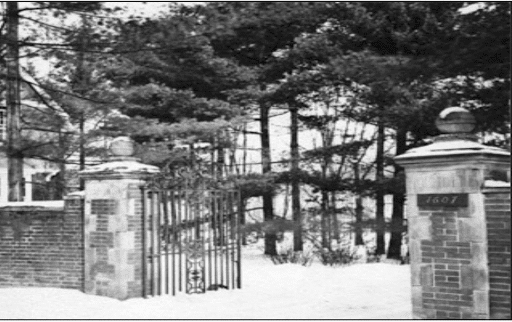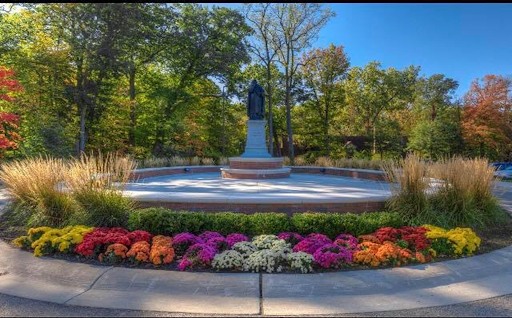 2016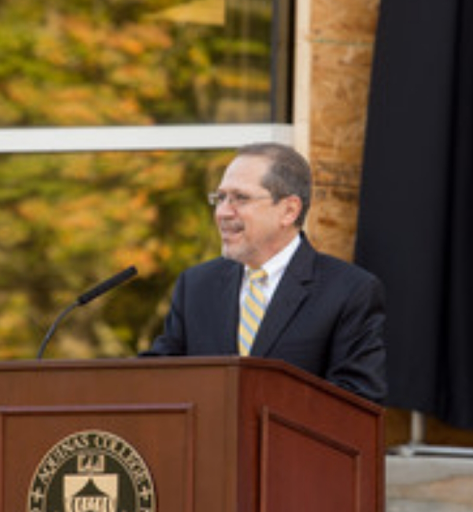 Presidential Resignation: After six years of serving as the 7th President of the Aquinas, Juan Oliverez announces his plan to resign from his position after the 2016-2017 academic year. During his term as President, Oliverez advocated for the building of a new chapel and for the addition of a new wing to the science building, as well as the expansion of athletic opportunities for students.
A nationwide search is commenced for a new College President. The search committee is comprised of the Board of Trustees, administration, faculty, staff, and students. Presidential candidates hold campus wide presentations to seek input from all members of the College.
Aquinas announces the creation of a new major in Translation and Interpretation. It is the first of its kind in the State of Michigan.
2017
New Chapel: Our Lady Seat of Wisdom, is completed and begins holding Mass and pastoral activities. The bright, airy chapel seats 250 people.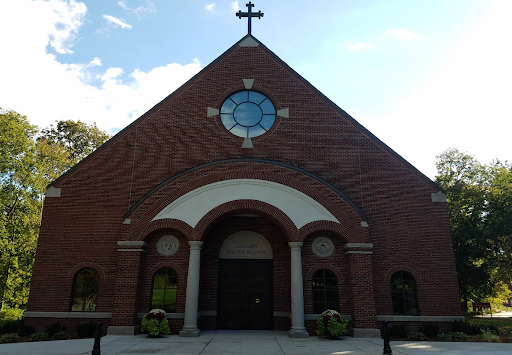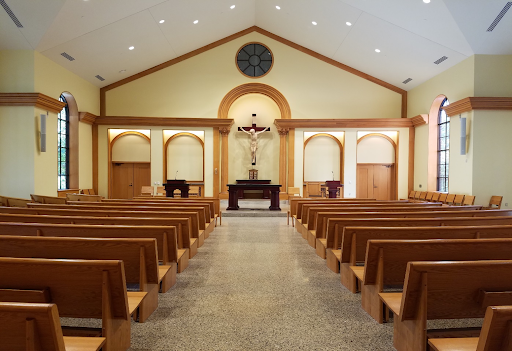 New President: Aquinas announces the selection of its 8th President, Dr. Kevin Quinn. Hailing from St. Norbert's College in Wisconsin, Quinn comes with a strong background in career preparation, focusing on students' growth both academically and personally. He begins his term on July 1st.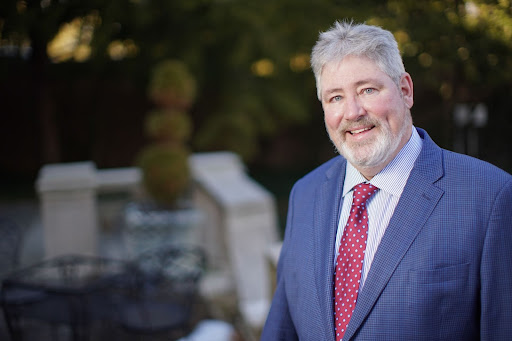 2018
A competition for writing a new fight song is held, Aquinas alum and current music instructor Barbara McCargar wrote the lyrics for the winning song, Vict'ry for the Saints. Music by Ken Dye, and choral arrangement by Mark Webb.
2019
Our Lady of Fatima shrine was renovated, and a May Crowning ceremony was held on May 1st. A traditional Catholic ceremony, a May Crowning consists of a solemn procession leading to the statue of Mary. At the end of the procession, a crown of flowers is placed upon the head of Queen Mary.
The shrine was purchased by Aquinas students following the end of World War II in memory of Aquinas lives lost during the war.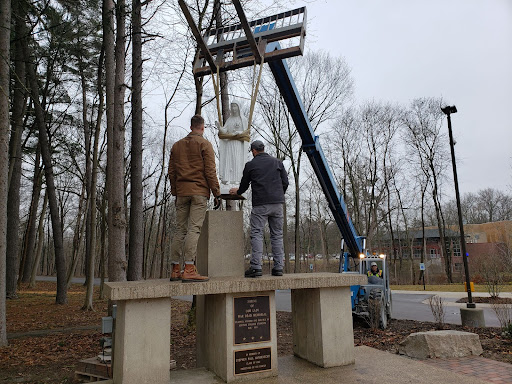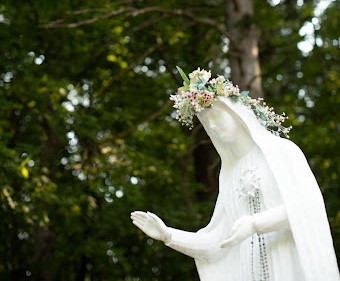 Sr. Mary Aquinas wing: The new wing to the Albertus Magnus Science Building is completed. Named the Sr. Mary Aquinas Weber wing in honor of Sr. Aquinas Weber, the wing boasts new labs for biology, chemistry, geography, physics, and a 110 seat lecture hall with state of the art technology.