Heritage & Traditions at Aquinas College
2020
A global pandemic: COVID-19 grips the globe and inflicts enormous strain on people's livelihood. In March, schools, colleges, and universities were forced to close all in-person learning. After Spring Break, Aquinas students resume classes in a virtual, online format to finish out the 2019-2020 academic year.
The global pandemic continues into the 2020-2021 academic year. While students are allowed to move back onto campus and many in-person classes are held, several classes are delivered in a hybrid (a combination of in-person and online classes) or entirely online. Fall Break is reduced and a five week Winter term is introduced.
Scholarships: In December, a new scholarship fund was launched. The fund, named in honor of Sr. Aquinas Weber, raised over $1 million by alumni and friends, and benefits students in financial need from all areas of study. Fifty students, financially burdened by COVID-19, receive assistance from the fund in its initial offering.
Several new scholarships are also established to benefit students in Model United Nations, Model Arab League, and various music ensembles. Students from any major can receive up to $2,000 for participating in Model United Nations, Model Arab League, and various music ensembles, including College Band, Jazz Band, Chamber Strings, College Chorus, Collegiate Chorus, and Women's Chorus. The scholarships become available in Fall 2021.
Swim Teams: Aquinas announces plans to offer NAIA varsity men's and women's swim teams, as well as USA men's and women's rugby teams. The new programs are set to begin in the 2021-2022 school year.

2021
Aquinas finishes fundraising on a record $61 million for the renovation and expansion of the LEED Gold-certified Albertus Magnus Hall of Science. Peter Sturrus makes the largest single donation in history, a $3 million donation to conclude the fundraising.
As the pandemic continues to upend societies in countries worldwide, the Aquinas community tries to regain a new sense of normalcy, as students, faculty, and staff transition back into in-person instruction and working environments. The College still upholds the mask mandate, as infection continues to rise .
At the 2021 October Board of Trustees meeting, President Kevin Quinn announces that he will not seek another term at the end of the Fall semester, concluding the end of the 8th presidency of Aquinas. A nationwide search is launched to hire the ninth president of the College.
2022
Dominican Center at Marywood at Aquinas: In January, the Dominican Center at Marywood moved its programming to Aquinas in the former Bukowski Chapel. After permanently closing its door at the Lakeside location, the Center now holds its popular spiritual events on Aquinas's beautifully wooded campus.
Covid-19: As infections begin to decline and the number of vaccinated individuals increase, Aquinas lifts its mask mandate.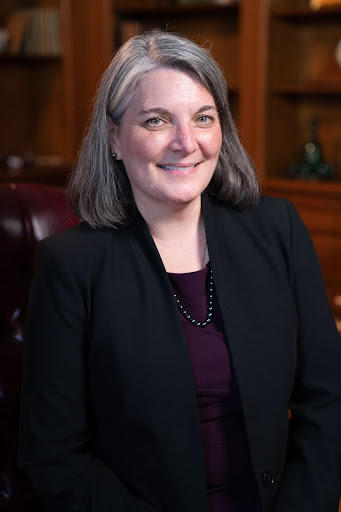 9th President's Tenure and Inauguration: Beginning on July 1st, Dr. Alicia Córdoba begins her tenure as President of Aquinas College.
On Friday, October 7, 2022, Dr. Córdoba is inaugurated as the ninth president of Aquinas College.