Heritage & Traditions at Aquinas College
1990
January: the College celebrates Thomas Aquinas week with performances, lectures, and festive activities, culminating in a special Mass on the Sunday nearest the patron saint's feast day of January 28.
The Freshman Humanities Program is awarded a $30,000 National Endowment for the Humanities grant to fund faculty development. Spring: the Board of Trustees discovers that a large college debt has accrued resulting from cost overruns on the Albertus Hall renovation, installation of telephone and computer systems, and purchase of the Reformed Bible College campus. A loan is secured to pay back the debt over several years, the budget is severely pared, and all employees suffer a salary freeze. Plans for the construction of a new library are shelved. March: the College is visited by the Renvyle Comhaltas, a group of 20 Irish musicians from Tully Cross, who play many concerts in the area.
April: Dr. Peter O'Connor resigns as President of Aquinas College, citing health reasons. Mr. Paul Nelson is asked to act as president, and in June the presidential search committee unanimously recommends that Nelson be made President of Aquinas College.

To hear Paul Nelson talk about his selection as president of Aquinas College, click here. You will be linked to an audio clip from "Historically Speaking," an oral history of Aquinas College. Spring: the former soccer field on Robinson becomes the Plymouth Parking Lot as the result of a deal with Blodgett Hospital. In return for the parking space, Blodgett agrees to fund the creation of a high-quality soccer field. June: ribbon-cutting ceremony officially adding the former Reformed Bible College campus to Aquinas College's grounds and buildings.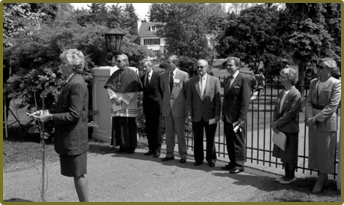 In June, 1990, the East Campus, formerly the property of Reformed Bible College, is formally dedicated at the Robinson Road entrance gate. In the rear is RBC's Timmer Hall, later raised to make way for the Jarecki Center for Advanced Learning.
President Paul Nelson and his wife Ruthie are a familiar feature in the 1990's riding their bicycle built for two around campus.
July: The Child Development Center moves to Donnelly Center under the direction of Aquinas alumna Susan Gerrity, '68. September: the restored Holmdene Gardens are dedicated. The gardens were rehabilitated by Dr. James Doyle and 30 students from the Tri-Beta Honor Association.
Gala Weekend is celebrated as the "Golden Gala" because it commemorates Aquinas' 50th anniversary as a four-year college.
Aquinas becomes the site of the Fifth National Center in the Learning Styles Network sponsored by St. John's University and the National Association of Secondary School Principals under the direction of Dr. Katy Lux of the Education Department.
Residence Life initiates "service houses," in which students can petition to live in the Woodward Lane houses if they pledge a year of service in a particular project. These houses soon become highly desired and a competition is put in place to determine which student groups will occupy them each year.
1991
January: The United States begins the Persian Gulf War. Students and Aquinas community members respond with peace vigils, rallies and a march to the Federal Building.
January: Paul Nelson is officially installed as the fourth president of the College.
Aquinas students pilot a program to Meiji Gakuin University in Tokyo. In August, Japanese students come to Aquinas and Hope College to experience American culture for three weeks. International programs increase with students studying in Germany and Mexico, France and Spain.
The Maintenance Shack is the scary place to be on Halloween afternoon for kids and students.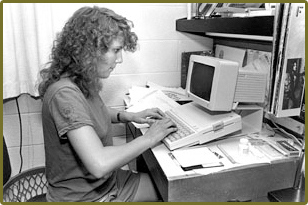 The early 1990's saw the advent of the personal computer and computers in residence halls. In those days, there was usually only one computer per residence hall.
1992
January: Students honor the birthday of Martin Luther King with a mass, prayer, music and reflection. Students participate in a downtown Peace March and listen to William Sloane Coffin, international speaker on peace and human rights.
Aquinas receives an award from the Ameritech Partnership Awards Program of the Midwest Partnership of Independent Colleges for teaching values in the classroom.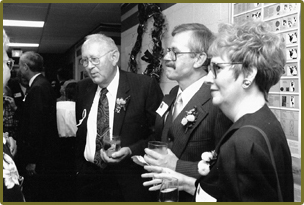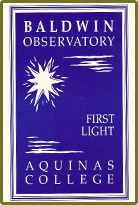 (Above) In 1992, benefactor Ralph Baldwin donates $30,000 to create an astronomical observatory on the roof of Albertus Hall. Here he celebrates the opening of the observatory with Physic professor Charles Frydrych and Mary Frydrych. In 1994, thanks to another gift by Baldwin, an 18" Meade telescope is installed in the observatory building and "First Light" is celebrated.
Fall: Coaches and athletic directors from Aquinas, Grad Rapids Baptist, Concordia, Siena Heights, Spring Arbor, and Tri-state Colleges form the Wolverine-Hoosier Athletic Conference. All are members of NAIA and WHAC winners will get a berth in future NAIA tournaments.
October: Aquinas students host the second annual Youth Rally for 700-800 diocesan high school students. The day is organized around the theme "A Thousand Peace Cranes."
---
1993 to 1995
1993
March: More than 100 Aquinas students are stranded in the South over spring break as a "storm of the century" closes roads leading North.
Celebration Week honors diversity on campus with a variety of activities.
April: The Math Department receives a grant from the National Science Foundation and the Steelcase Foundation to establish a computer classroom for math instruction.
A Master's degree program which includes initial teacher certification is established in the Education Department.

Under the direction of Sr. Marie Celeste Miller, O.P., the college undertakes a major redesign of the General Education component of the bachelor's degree program. It is first major curriculum redesign since the 1970's.
The Community Senate votes to put $10,000 towards the renovation of the Carriage House as a new student center. WAQU radio, an on-campus radio station, begins broadcasting on a frequency of 550 AM.
Long-time faculty member Dr. Ralph "R.J." Bennett is given an honorary doctorate by the College at commencement in recognition of his service to Aquinas.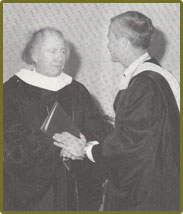 Aquinas President Paul Nelson (right) congratulates Dr. R.J. Bennett on his honorary degree presented at Commencement '93
1994
January: Through the help of U.S. ambassador to Italy Peter Secchia, rocks from the birthplace of Thomas Aquinas are procured from Italy and put on display in the lobby of the Academic Building. The project, initiated by faculty members, formed a link between the College and its namesake, medieval philosopher Thomas Aquinas.
February: The women's basketball team wins the NAIA Division II title, and is ranked 25th nationally.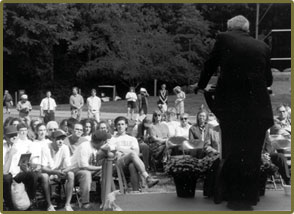 April: baseball coach Terry Bocian racks up his 800th career victory, the first Michigan college baseball coach to achieve that status. Bocian's teams win six state NAIA championships.
September: "First Light Week" marked the installation of the 18-inch Meade telescope in the new Albertus Hall Baldwin observatory, named after Dr. Ralph B. Baldwin, a noted local astronomer and former CEO of the Oliver Machinery Corporation.
(At left) Astronomer and local business man Ralph Baldwin addresses the crowd at the opening of the observatory named after him atop Albertus Hall.
1995
Pulitzer Prize winning poet Gwendolyn Brooks reads to a packed house in Wege Center. March: Renovation begins on Cook Carriage House.
Aquinas' baseball team, under coach Terry Bocian, wins 30 games in a row for the 21st consecutive year. Women's tennis team wins the WHAC regional. Dave Woods takes AQ to the forefront of WHAC school in track and field, while AQ alumnus and coach Mike Wojciakowski leads men's cross country to national runner-up spot in NAIA competition.
August: Cook Carriage House is dedicated.
The new core curriculum is introduced this fall.
Homecoming theme is "Relive the 80s."
Service learning trips include building a house in Lake County with Habitat for Humanity, service among the Zapotec Indians in Oaxaca, Mexico, and a trip to L'Arche, a community for mentally handicapped adults in Toronto.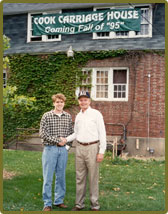 In the mid-90s, a student-initiated fund drive enables the restoration of the old carriage house, used for storage since the closing of the theater, into the new Cook Carriage House and Moose Café, a favorite student hangout and center for the Student Activities Office. Here Community Senate Chair Douglas Dooley and President Nelson celebrate the beginning of renovation work.
November: Former president Gerald R. Ford speaks to freshmen Inquiry and Expression students. Daniel Berrigan, peace activist, speaks at Kretschmer Recital Hall.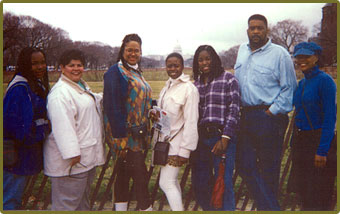 Alpha Sigma Lambda, honor society for continuing education students, has its first initiation in Bukowski chapel. (At left) Aquinas College students of color visit the nation's capital in 1995 for a national conference.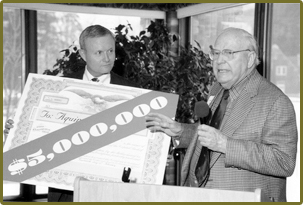 In December, 1995 long-time benefactor of the College Peter Wege presents a $5 million gift, the largest in the history of the College.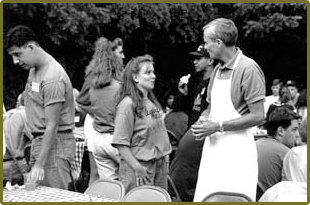 A hallmark of Paul Nelson's presidency was his closeness to students, whether interacting with them in formal settings or donning his apron to cook barbecue for them on the deck of Willowbrook, the president's house.
---
1996 to 1997
1996
Computers continue to expand their uses in education. Software packages are added, the College offers a laptop computer purchase plan for students, and the campus prepares itself for Internet access.
The baseball team has another winning season. Women's basketball coach Patti Tibaldi leaves Aquinas after 18 seasons and 340 wins. Linda Nash becomes new women's basketball coach.
U.S. News and World Report's annual college rankings move Aquinas up to the second tier of Midwest campuses.
1997
Alumni Tony Foster and Linda Nemec Foster contribute money for two popular projects: TheFoster Planet Walk, and the Aquinas College Contemporary Writers Series, an ongoing seriesof readings by nationally known authors. The Planet Walk is a scale model of the solar system,consisting of nine bronze disks mounted on large rocks that stretch across campus fromAlbertus Hall to Fulton Street. The project was a collaboration between physics professorChuck Frydrych, art professor and sculptor Ron Pederson, senior geography major JenniferZimmerman, and art major Nancy Hart. The bronze disks were cast at the Alchemist-Tye Fine Art Foundry in Kalamazoo, MI.
(At right:) The Foster Planet Walk recreated the solar system to scale, with the "sun" being Albertus Hall and Pluto (then considered a planet) out near Fulton Street.

To hear Tony and Linda Foster talk about how they came to fund the Foster Planet Walk, click here. You will be linked to an audio clip from "Historically Speaking," an oral history of Aquinas College.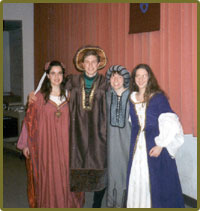 Insignis students present medieval drama as part of St. Thomas Week festivities. St. Thomas Week began in 1987 as a project of the self-named Committee on New Traditions.
Paul Nelson announces his retirement as president of Aquinas effective this year, and a presidential search is undertaken. Finalists visit campus in spring semester for interviews with staff, board members, faculty and students.
Aquinas-based party band "Domestic Problems" plays on campus in some early gigs.
Dr. Harry J. Knopke is named president by the Board of Trustees and begins his term in July.
The 24th annual Aquinas College jazz festival features horn player Jay Thomas and saxophonist George Benson. Women's basketball team wins WHAC championship, loses to Tri-State in tournament.
March: Campus and alumni celebrate the 25th anniversary of the Aquinas Ireland program. Over 120 former participants join in the party.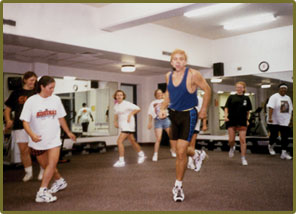 A new campus amenity in the late 1990s is the Fitness Center in lower level Regina Hall.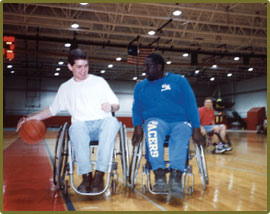 To raise awareness, students participate in a wheelchair basketball game during National Disabilities Week.
March: Women's Studies Center inaugurates an undergraduate research conference Resourceful Women: Celebrating Women's Contributions, Past and Present.
"What's It Fore?!" a weekend of miniature golf, is held in the Fieldhouse to raise money for scholarships and financial aid.
A team from the North Central Accrediting Agency visits campus in April to conduct a review of the college. Accreditation of Aquinas is extended for seven years.
As Paul Nelson ends his tenure as president, the Community Senate declares "Paul Nelson Day" in April, and there is a farewell dinner at the Amway Grand Plaza Hotel which raised approximately $80,000 for scholarships. The College's mascot, a large St. Bernard costume, is christened "Nelson."
President Harry J. Knopke begins his presidency of the College on July 1.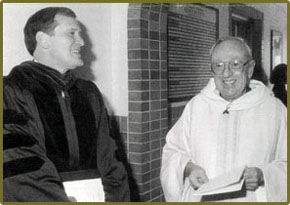 Dr. Knopke's Inauguration Mass is officiated by the Reverend David M. Hynous, O.P. (right), a long time friend of the Knopke family.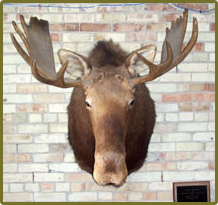 This authentic moose head literally put the "Moose" in the Moose Café coffee shop.
---
1998 to 1999
1998
The College is reorganized into three separate schools: Liberal Arts and Sciences, Education and Management with separate deans in charge of each school.
The Community Leadership major is approved by the Academic Assembly. Designed by professor Michael Williams and Rev. George Heartwell, the major is intended to prepare students to serve as effective leaders in the non-for-profit sector, giving future heads of service organizations or other non-profits the social, service and financial skills they will need to run successful organizations.
Senior Brandon Lowe ends his basketball career with a total of 2,037 points, second only to Laray Hardy and tying women's basketball standout Kathy Grzegorski. Women's basketball coach Patti Tibaldi is named to the NAIA and Basketball Coaches of Michigan Halls of Fame.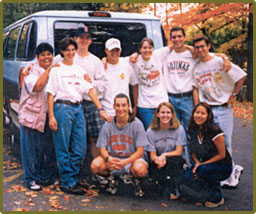 Service Learning trips
take students to the far corners of the world to serve mankind. Regular service learning experiences take place in Oaxaca, Mexico, Appalachia, Wilderness State Park and other areas.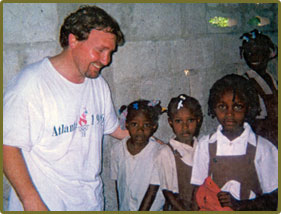 Dr. Roger Durham
leads this service learning trip to Haiti.

To hear Stella Ferris, former director of the College's multicultural office, talk about a service trip to Haiti, click here. You will be connected to an audio link to "Historically Speaking," an oral history of Aquinas College.
1999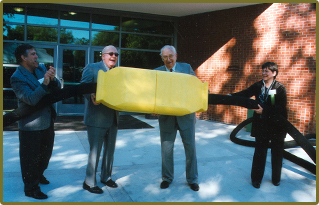 In 1999, the Jarecki Center for Advance Learning opens. Here donors Clare Jarecki and Peter Wege ceremonially "plug in" the state of the art building which will serve as classroom and office space for the Business and Accounting departments as well as the Master of Management program before ultimately being melded with the new Hauenstein library in 2007.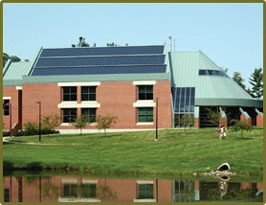 Jarecki Center for Advanced Learning
The Conductive Education program is approved by the Academic Assembly. This developmental program for physically handicapped children is coordinated by the Peto Institute of Hungary and is one of the first of its kind in America.
In fall, the new Ravine apartments open on the East campus. The first new residence halls built on campus since the 1960's provide apartment-like housing for upper-division students, allowing them to live on campus but in apartment-like dwellings rather than traditional residence halls.

Baseball coach Terry Bocian celebrates his 1,000th career victory. He becomes only the seventh coach in the NAIA known to have achieved such a feat. In the 1990's, Bocian led his teams to three consecutive baseball state championships in addition to winning his 1,000th game.