Heritage & Traditions at Aquinas College
1886
Dominican Sisters from New York, under the leadership of Mother Aquinata Fiegler, establish the Novitiate Normal School in Traverse City to train members of the order for teaching. The college dates its origin from the admission of the first new postulant, Josephine Gagnier (later Sister Henrietta), to the order which became independent in 1885 when the Grand Rapids diocese was formed as an entity independent of the old Detroit diocese which had once controlled the entire state of Michigan. The Normal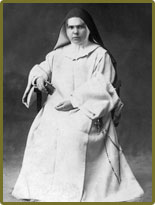 School grew quickly as the Dominican sisters teaching ministry expanded throughout northern and western Michigan.
Mother Aquinata Fiegler
Photo at right: Mother Aquinata Fiegler led a group of five young nuns to Traverse City in 1877 and founded what would become Novitiate Normal School in 1886. The Normal School eventually evolved into Aquinas College.
1888
Bishop Henry Joseph Richter asks Dominican sisters to come to Grand Rapids to staff the first home for orphan children in western Michigan, St. John's Home. Eventually, the sisters move their mother house and Novitiate Normal School to Grand Rapids. By 1914, over 300 sisters who had been trained at the Novitiate Normal School are teaching in 38 parochial schools in Michigan, and run academies in Traverse City, Essexville, and Grand Rapids.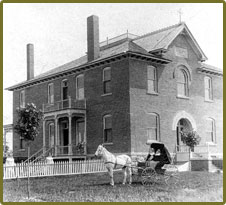 Sisters who were trained at Novitiate Normal School taught at Catholic elementary schools across Michigan. Here, Sisters Berchmans and Reginald sit in a horse and buggy outside St. Mary's Academy in Carson City. Two unidentified sisters stand behind the fence. Novitiate Normal School evolved into Sacred Heart, then Marywood College with the admission of lay women starting in 1922.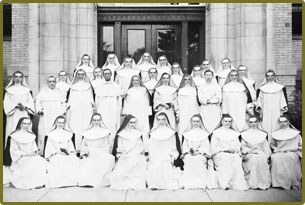 At right: These Dominican sisters and three friars, pictured in 1920, completed their bachelor's degrees at the University of Notre Dame. The increasing number of sisters who needed four-year degrees eventually led to the founding of Aquinas College. Several of these sisters later joined the faculty of Catholic Junior College and Aquinas College.
1922
Sacred Heart (later Marywood) College grows out of the Novitiate Normal School and is chartered by the state of Michigan as a two year college for women. The college is located at the newly-constructed Marywood motherhouse on East Fulton Street, on the edges of the city of Grand Rapids. The first three laywomen were admitted and the two-year women's college continued at Marywood until its evolution into Catholic Junior College took it downtown to Ransom Street, next door to the Grand Rapids Public Library.
1931
Dominican prioress, Mother Eveline Mackey, with encouragement from Grand Rapid Bishop Joseph Gabriel Pinten, makes the move to transform Marywood College into a full-fledged junior college. Bishop Pinten lends his support on the condition that the sisters open the school to men as well as women. To become accredited, the college needs to separate its faculty and facilities from the high-school level Marywood Academy on Fulton Street, so the decision is made to establish Catholic Junior College (CJC) in the Ransom Street property that once housed Sacred Heart Academy and is still owned by the sisters. CJC's opening its doors to men makes it the nation's first coeducational Catholic college to be administered by a congregation of religious women.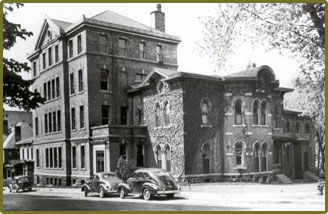 Pictured right: Grand Rapids Catholic Junior College Ransom Avenue campus in downtown Grand Rapids. Classes are conducted in this four-story 19th century brick building, with a two-floor addition. It holds two offices, four classrooms, four labs, a library and a small chapel. For large lectures and gatherings, the college uses the Knights of Columbus hall across the street. Physical education classes are held at Grand Rapids Junior College, and Education classes are held at Marywood. Music studios are in a small building next door. One classroom has windows opening on to the long back porch of the main building and students use them as an escape route from boring classes.

To hear GRCJC alumnus Joe Cavera talk about the student "smoker" on the Ransom Street campus, click here. This audio clip is from "Historically Speaking," an oral history of Aquinas College.

Bishop Pinten calls CJC "a new diocesan institution... placed under the direction of the Dominican Sisters of Marywood... to promote the higher education of our young men and women in accordance with Catholic principles." CJC courses include "Catholic Action, liberal arts and sciences, pre-commerce, pre-law, and courses leading to journalism and the profession of teaching."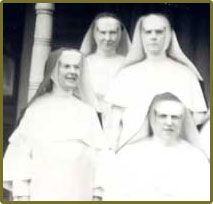 Left: In the early years, Dominican sisters make up almost the entire faculty. Because their work is counted as "contributed service," they become the "living endowment" of the college, allowing the college to contain costs in its early years.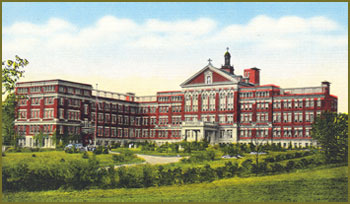 Right: The Dominican motherhouse on Fulton. Catholic Junior College students take their Education courses here.
The arrangement with the Grand Rapids diocese causes friction, with the bishop attempting to control faculty and administrative appointments in the college. Mother Eveline insists that the Dominican order, as a "regular" order of the Catholic Church, is a papal institute, not subject to local diocesan control. Eventually, the diocese recognizes the College's independence.
Dean Burton Confrey, a layman who had written several books, becomes the academic leader of CJC. The faculty consists predominantly of Dominican sisters.
Depression-era tuition at CJC is $50 per semester. A work-study program is initiated to help students pay this high tuition. Library workers in this New Deal era are hired with National Recovery Act funds.
The first CJC graduation is distinctive. Dr. Confrey decrees, "There will be no formal commencement exercises. "Instead, when preparing for their baccalaureate, the graduates make "a vigil similar to the knights of old."
---
1933 to 1935
1933
The first student newspaper, The Lantern, is produced every other week on a mimeograph machine.
1934
Fr. Arthur F. Bukowski is appointed chaplain and dean of the College, later becoming its president after Dr. Confrey's retirement.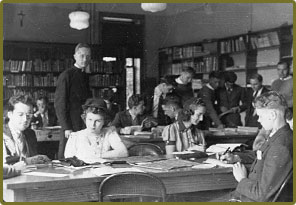 Pictured at left in the library with students, Father Arthur Bukowski, dean of Catholic Junior College from 1934, was named President in 1937.

To hear Msgr. Arthur Bukowski reflect on his arrival at CJC, click here for an audio clip from "Historically Speaking," an oral history of Aquinas College.

Enrollment soars to 90 students, mostly from Grand Rapids, but some coming from as far away as Beaver Island. Women out-of-town students live in Esther Hall, a residence in Heritage Hill run by the Methodist church. Men out-of-town students are given a list of nearby facilities.

By the late 1930s, enrollment reaches 200.
---
1936-1939
The Catholic Junior Herald replaces The Lantern as the student newspaper.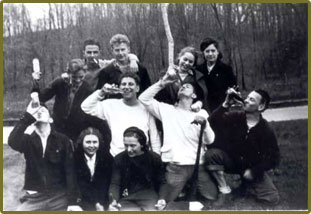 During the Depression, students use ingenuity and creativity to entertain themselves. In addition to staging shows and holding parties, an annual picnic becomes a college-wide celebration. Pictured here is a 1938 CJC picnic at Johnson Park on the banks of the Grand River.

To hear Monsignor Bukowski speak of the annual Ascension Day picnic, click here. This audio clip is from "Historically Speaking," an oral history of Aquinas College.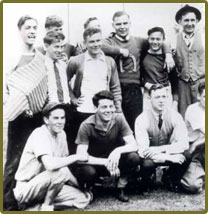 Catholic Junior College features only two sports teams, baseball and basketball. Pictured here is the 1938 baseball team.

To hear a GRCJC alumnus speak of the early sports program, click here. This audio clip is from "Historically Speaking," an oral history of Aquinas College.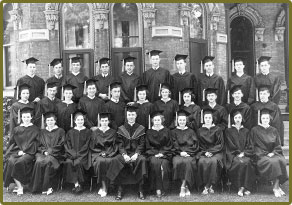 Father Arthur Bukowski, the college's first president, sits center, first row.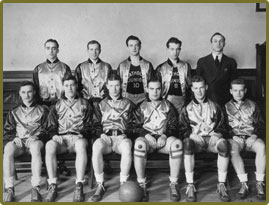 Basketball became CJC's first organized sport.
Here the 1939 roundball squad poses with Coach Ed White.