Residence Life at Aquinas College
Residence Life Staff
Residence Life Central Office – Regina #005
Phone: 616-632-2944
Fax: 616-732-4479
reslife@aquinas.edu
Residence Life Professional Staff - Resident Experience Coordinators
Resident Experience Coordinators are Masters level professional staff members who reside in a residence hall in their area and are responsible for the total operations of their residential community. Besides general administration of their residential area, their major responsibilities include supervising their Resident Assistant staff, referring and advising residents to other departments on campus, acting as Parent liaisons for students in their residential area, and acting as Student Conduct Hearing Officers.
Residence Life Staff - Resident Assistants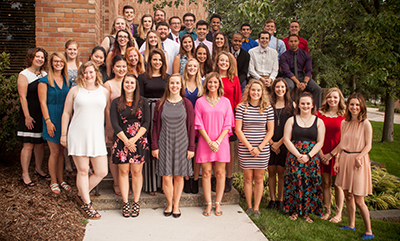 Resident Assistants (RAs) are undergraduate students that serve as the paraprofessional staff to Residence Life. RAs reside in the residential units and are responsible to establish and support a safe, healthy living environment on their floor/building. They are specially trained in all aspects of student living and assisting the needs of the residents. The RAs act as advisors to their floor members and are capable of discussing academic, social and personal concerns with them. The overall job of the RA is to help create a positive atmosphere and build community within their residence hall.