Before Arabella Cummings started her summer research with sociology professor and chair Dr. Jen Lendrum, she yearned for community.
"After I moved to Grand Rapids about three years ago, I never really felt a sense of belonging to my city," said Cummings, a sophomore nursing student in University of Detroit Mercy's Nursing Program at Aquinas College. "And I was hurting for that, especially living in Eastown, because that community seems so involved, and I just kind of felt like an outsider."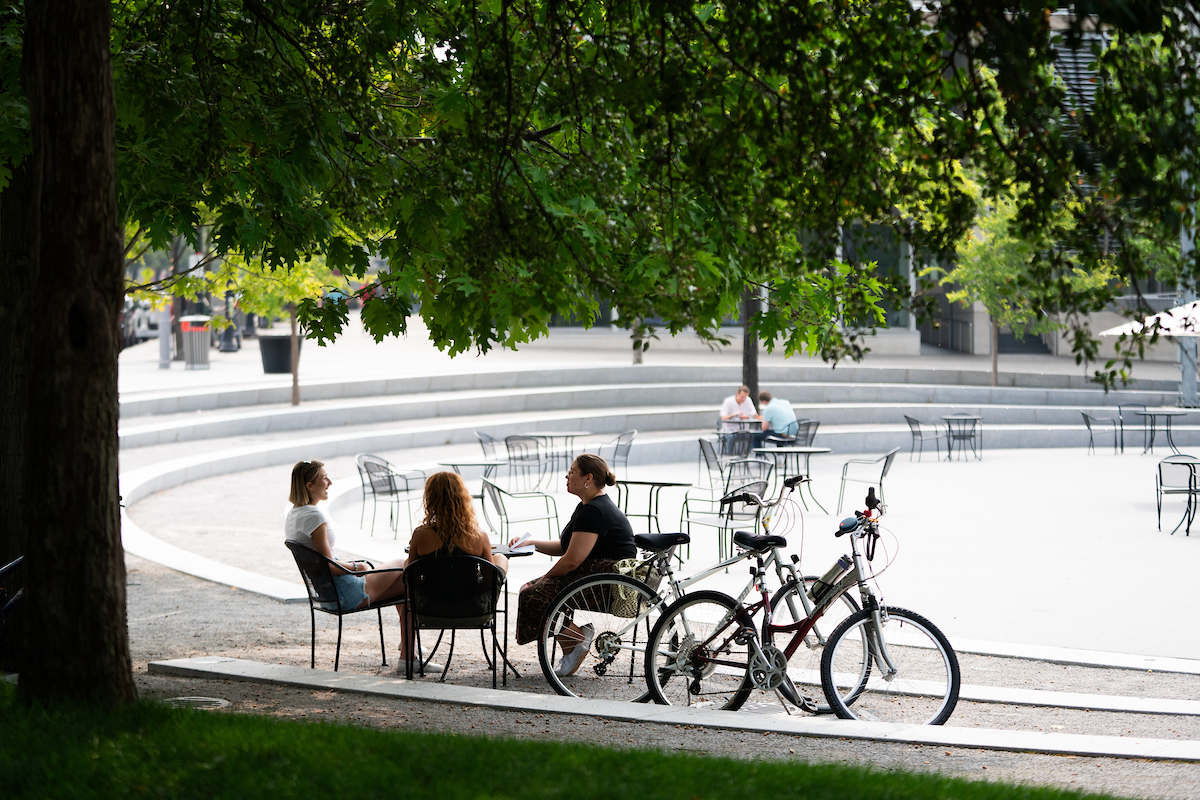 Lack of social connection has been an enormous problem for many people, especially since the start of the COVID-19 pandemic. For a second year, Dr. Lendrum wanted to explore this social problem through summer research, and Cummings jumped at the opportunity.
"We are conducting an ethnography, which means that we are conducting research through observations," explained Dr. Jen Lendrum. "And we are conducting our ethnography on bicycle. So we are bicycling around the city as a way to explore public spaces to examine the connection between public spaces and well-being."
We met Cummings and Dr. Lendrum in Rosa Parks Circle, an example of a public space, located in the center of downtown Grand Rapids. Business people sat down at the circle's tables to eat their lunch. Someone had set up speakers and was playing music. A man slept under the shade of trees. Bikes, cars, buses, and foot traffic rushed by in all directions.
A significant part of Dr. Lendrum and Cumming's research is identifying the barriers that prevent connection in spaces like these– barriers that one might overlook if they're not personally impacted. Even in Rosa Parks Circle, Dr. Lendrum was quick to identify barriers like fences around the stage, blockades on the nearby Blue Bridge to curtail weekend partying, and gravel that might be difficult for someone with limited mobility to navigate.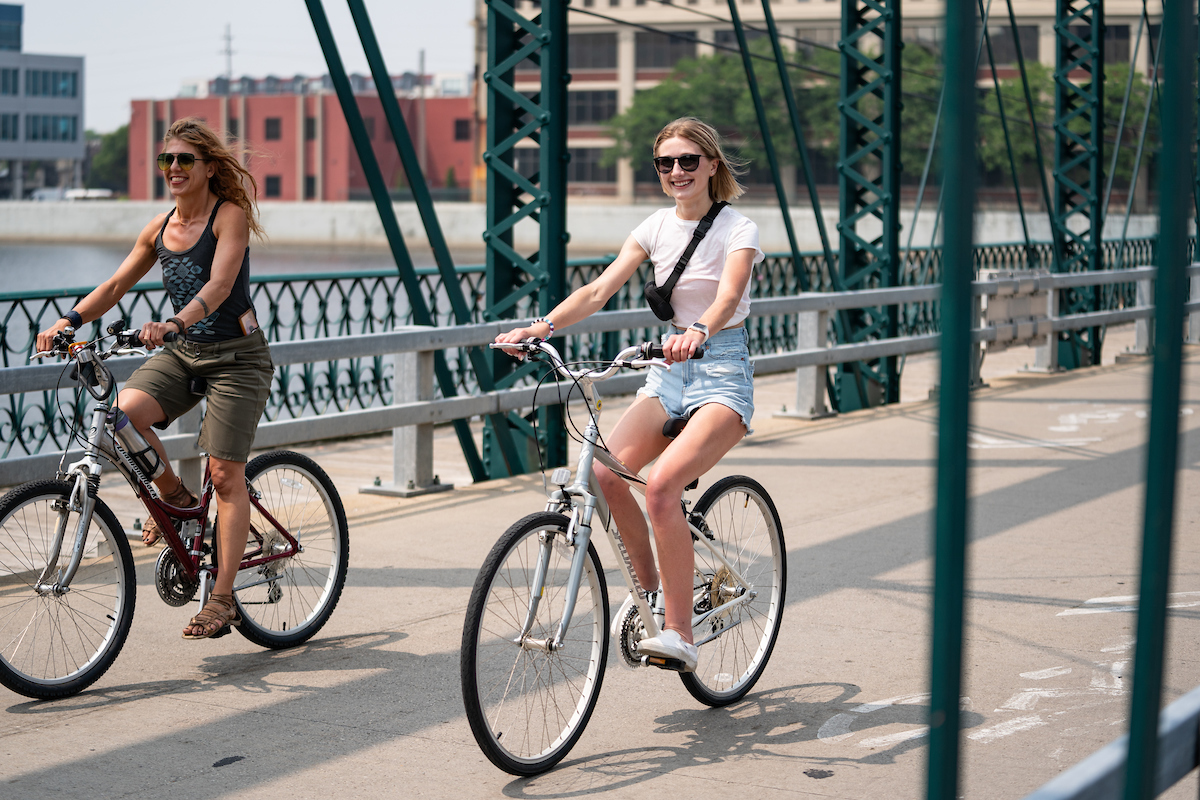 New rules regarding conduct in public spaces are an additional barrier. "There are ordinances that the city of Grand Rapids is trying to pass that would criminalize homelessness in the city," said Dr. Lendrum. "So if you're in a public space without what they're calling 'a purpose,' you may be considered a nuisance and you could be cited." Since our conversation, these rules have been passed by the city.
Transportation has also come up again and again as a barrier to access public space. "We don't know how many people in the city do not have regular access to vehicles," said Dr. Lendrum. "So we're looking at how folks can get around the city of Grand Rapids if they were to use bicycles for transportation, like through a community organization like Upcycle Bikes."
Upcycle Bikes is a nonprofit organization supplying donated and refurbished bikes to those without transportation through community partners like Bethany Christian Services, AYA Youth Collective, The Women's Resource Center and more. Aquinas College has partnered with them to collect donated bikes through the Campus Safety department and has collected about 50 bikes for the organization so far.
Dr. Lendrum and Cummings have teamed up with Upcycle Bikes to use their research to develop a grassroots community movement called GR Roll. Using the Detroit Slow Roll as a model, the GR Roll invites community members to meet in a park and take a relaxing bike ride through the city together. The slow pace makes it accessible for all levels of bicyclists.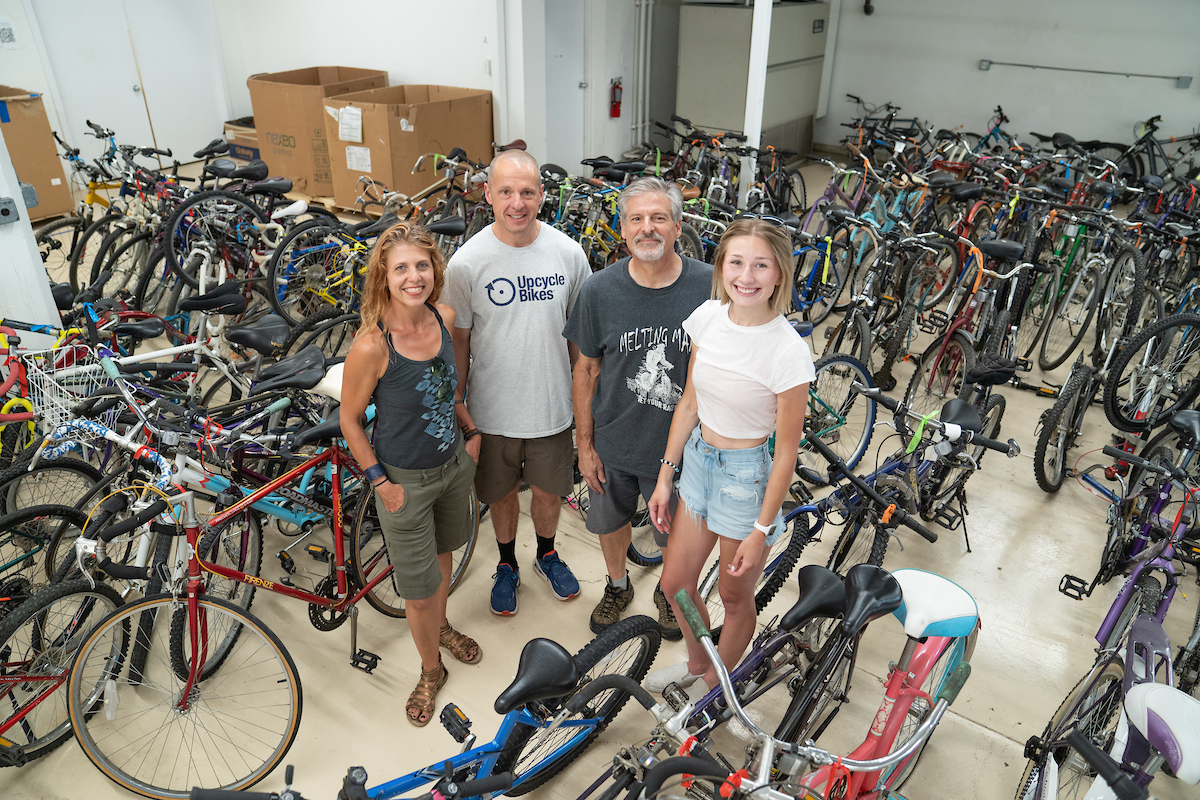 "We want to get people to know each other and also the city," said Cummings. "That's why we start in different neighborhoods and at different parks. It's been incredible – the connections and the relationships that have been built and the fun we have!"
Cummings has found that her work with Dr. Lendrum in the field of sociology is relevant to her nursing major and eventual career.
"Everyone should have equal access to affordable, non-discriminant, good care," said Cummings. "Knowing how to be a good human and to love and interact with others is good for life in general. So it's preparing me for not only my career, but just my life and making me a better person."
As for that sense of belonging that Cummings was looking for, she's found it, both in the mentorship of Dr. Lendrum and the many people she's met traversing the city of Grand Rapids by bicycle.
"I really feel connected to my community," she said, smiling and looking out at Rosa Parks Circle, her bike parked right beside her. "And not only that, I feel like I have a family. I'll go places now and I know people on the street."
If you're looking for a new way to connect with the community and explore Grand Rapids, visit GR Roll's Facebook page and attend the next event. You can also sign-up to volunteer or donate to Upcycle Bikes.