The Bridge Community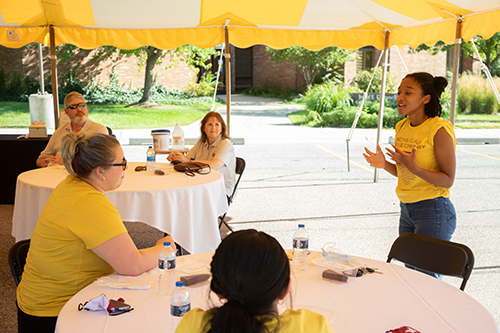 Dates: August 7 - 18*
*Tentative Dates
The Aquinas College Bridge Community Program starts in August two weeks prior to the Fall student orientation.
The Aquinas Bridge Community introduces participants to the academics, people and experiences at Aquinas College prior to the start of the academic year. The objectives of the program help underprepared students develop key skills to get off to a successful start in college as well as prepared students to advance more confidently in their transition to college. Upon completion of the two-week program, the participants are offered ongoing support as they traverse their first year of college.
Program includes:
2 summer courses (GEN 110) -

1 credit required for graduation

and GEN 105 - 2 credits, graduation elective)

The same First Year Seminar (GEN 100 -4 credit course required for graduation) section for all bridge participants.

Ongoing support meetings with Aquinas Bridge Community staff and faculty throughout the spring semester
---

I loved the Bridge Program. It was a great experience that made the transition from high school to college much easier. After the Bridge Program had finished, I felt way more confident and prepared to start my freshman year.

What I liked the best was that we felt like a family.

The Bridge Program is probably the most important thing that I have done at this college. I learned so much about faculty, buildings and resources, as well as becoming more outgoing.

After moving in, I jumped into a conversation between two of the other students who were also participating in the Bridge Program. I had no idea that those two people would be two of my best friends today. The Bridge Program gave me the opportunity to meet so many people that continue to help me everyday and make my time here even better.
---
Courses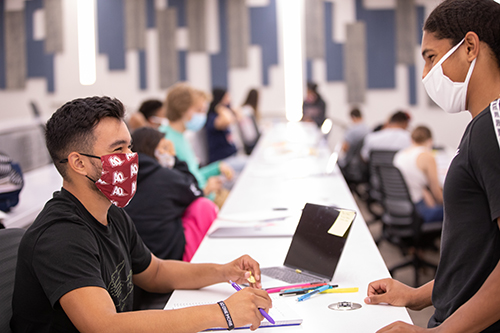 Students take the following two courses during their two weeks in the program

GEN 105: Achieving Academic Success
The focus for this class is for students to recognize their responsibilities as a student, to successfully assimilate into the college community, to discover their own learning preferences and how to utilize their learning style; acquire, practice, and integrate time management, goal setting, reading and memory strategies; discover study strategies and test-taking techniques; and to learn how to maintain physical and mental health in the college environment.

GEN 110: Career and Self Awareness
Theoretical and practical study that assists students with identifying their skills, interests, abilities, goals, and values as they relate to careers. With this information, students explore disciplines that may be a good fit. Students write a resume, discuss employment trends, learn interviewing techniques, and plan for internships and/or study abroad opportunities.
---
Sample Weekday
8:30 a.m. - Breakfast
9 a.m. to noon - GEN 105 Achieving Academic Success
Noon to 1 p.m. - Lunch and Learns with Aquinas Staff
1 p.m. to 2:30 p.m. - Afternoon Break
2:30 p.m. to 4 p.m. - GEN 110 Career and Self Awareness
4 p.m. to 5 p.m. - Faculty office hours / homework / study time
5 p.m. - Dinner
6 p.m. - Evening programming and exploration
---
Contacts:
Brian Matzke
Vice President of Enrollment Management
Aquinas College
(616) 632-2073
matzkbri@aquinas.edu
Lindsey Hansen
Director of Admissions
Aquinas College
(616) 632-2878
ljh001@aquinas.edu
Joseph Fox, M.Ed.
Assistant Director of Advantage Center
Aquinas College
(616) 632-2176
jgf001@aquinas.edu
Sara Haviland
Director of Student Success
Aquinas College
(616) 632-2167
smh006@aquinas.edu