Aquinas College Peter M. Wege Golf Tournament
Presented by Jandernoa Foundation



Aquinas College's annual Peter M. Wege Golf Tournament gives golfers the opportunity to golf with students while raising funds to support our AQ Saints. Proceeds from this event will fund annual scholarships in Peter's name, keeping his legacy alive at AQ for the next generation.
This scholarship honors and carries forward the legacy of Peter Wege, ensuring a top-flight liberal arts education rooted in our Catholic and Dominican values is accessible for all students who endeavor to be Saints. Peter Wege was instrumental in the development of Aquinas and his name adorns many special places on our campus. His principles and commitment to creating a just and sustainable world remain a living legacy to Aquinas and its students.
Event Details
Monday, May 13, 2024
Thousand Oaks Golf Club
8:00 a.m. - Registration and Breakfast
9:30 a.m. - Shotgun Start
3:00 p.m. - 19th Hole Toast and Reception
Your participation in this exciting event includes breakfast, lunch, drinks, and dinner, which includes a brief program to highlight the impact your participation has on Aquinas College students.
To learn more, sponsor the event or register a team, contact Matt Hoffman at 616-632-2820 or hoffmanm@aquinas.edu
New and Exciting Changes for 2024
To keep things interesting and fresh, we're excited to have AQ golfers at each hole to hit your fifth shot, replacing the Pros for 2024.
Introducing a Co-ed Division for 1st, 2nd, and 3rd place.
The auction will now be online only. More details to come.
Super Saints Pass, Contests, & More
Purchase your Saints Pass to receive advantages!
Super Saints Pass - $50
Includes:
All On Course Contests
Golf Ball Cannon
Hole of Fortune
2 Mulligans
Putting Contest
On Course Contests Include:
Closest to Pin (Men/Women)
Longest Drive (Men/Women)
Longest Putt
Closest to the Line
Hole-In-One On All Par 3s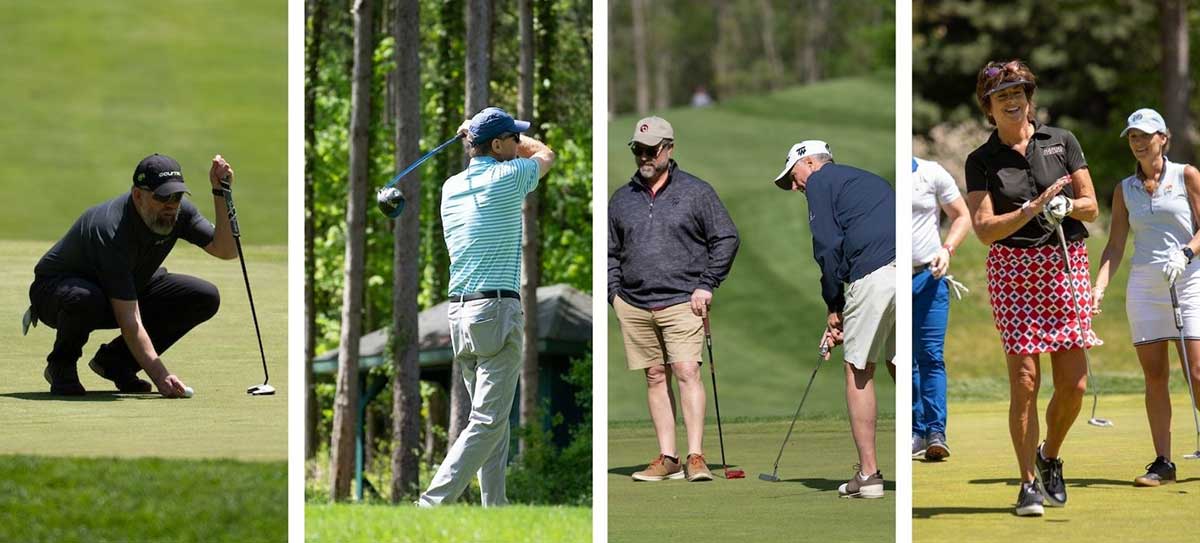 ---
---
Thank You to our 2023 Sponsors!
Thank you to these individuals and organizations for making this year's event possible:
PRESENTING SPONSORS
Greg '71 & Sally Alksnis
Doug Meijer
GOLD SPONSORS
Black River Barn- Nicole Slott, Emili Slott, James Slott & Len Slott '05
LUNCH SPONSOR
Merrill- Jim Veldheer, Scott Bernecker & Rachel Mraz
SILVER SPONSORS
Daniel S. Pupel, Jr. '84
River City Mechanical
BRONZE SPONSORS
Acrisure Benefits Group
Applied Innovation
B&O Saws
BHS Insurance
Denny '64 & Sue Haas Williams '75
Dominican Sisters ~ Grand Rapids
Legacy Planning & Associates
Pioneer Construction
TH Plastics
University of Michigan Health- West
Warner Norcross + Judd
Waybetter Marketing
West Side Beer Distributing
West Walker Steel
HOLE SPONSORS
4Front Credit Union
Aquinas College Alumni Association Leadership Council
CWD Real Estate
Dominican Sisters ~ Grand Rapids
J. Milito & Associates, Inc.
Lamoreaux & Associates
Life EMS
Marcie '97 & Brian '97 Hillary
West Catholic High School

GREEN SPONSORS
Life EMS
Ray & Susan Lovell
THANK YOU TO AQUINAS COLLEGE CURRENT AND FORMER TRUSTEES
Gregory A. Alksnis • Matt Biersack • David C. Bottrall • Sister Nancy M. Brousseau • James A. Brunson • Ronald M. Butkiewicz • Edward B. Carlson • Sam M. Cummings • Thomas W. Czerney • Sister Barbara Dannhausen • Sister Sandra Delgado • Sister Dorothy Ederer • Sister Constance Fifelski • Anthony J. Foster • Sister Maureen R. Geary • Richard M. Gillett† • Kimberly K. Hanrahan • Sister Barbara H. Hansen • Sister Joyce Ann Hertzig • Rick J. Heuvelman • Marcie M. Hillary • Sister Margaret A. Hillary • Sister Maribeth Holst • Sister Teresa Houlihan • John S. Jackoboice • Michael J. Jandernoa • George P. Julius, Jr. • Margaret Kennedy • John C. Lowery • Michael A. Lown • Sister Dolorita M. Martinez • Andola Mathis • George M. McAleenan • Katherine H. McAleenan • Thomas McGovern • Sister Nathalie Meyer • Nazar Moussah • Sister Carmelita Murphy • Joseph A. Murphy • Ken D. Neyer • John M. Nowak • Sister Mary Kay Oosdyke • Jim Rabaut • Sister Barbara E. Reid • Sister Darlene Sikorski • Sister Margaret J. Thomas • Patrick A. Thompson • Mike VanGessel • Sister Ann Walters • Sister M. Aquinas Weber • Matt Wey • Dennis M. Williams • C A Woodhouse† • Robert C. Woodhouse • Jr. Robert C. Woodhouse, Sr.†