Aidan Donnelly, a graduate of the Aquinas College Class of 2023, fell in love with the natural world early on, camping with his family.
"I wanted to be a national park ranger. That still is my dream job," said Donnelly. "Seeing how the national parks have changed, especially out West in the Redwoods, how those have been getting overpopulated and polluted – it's a mess. And it's up to the National Park Service to try to mitigate that."
After earning a degree in Sustainable Business from Aquinas, Donnelly has found the perfect starting point on the path to his dream job at a different kind of park: The Frederik Meijer Gardens and Sculpture Park in Grand Rapids, Michigan. As their sustainability intern, Donnelly is already making an impact on the health of our planet, one bag of waste diverted from the landfill at a time.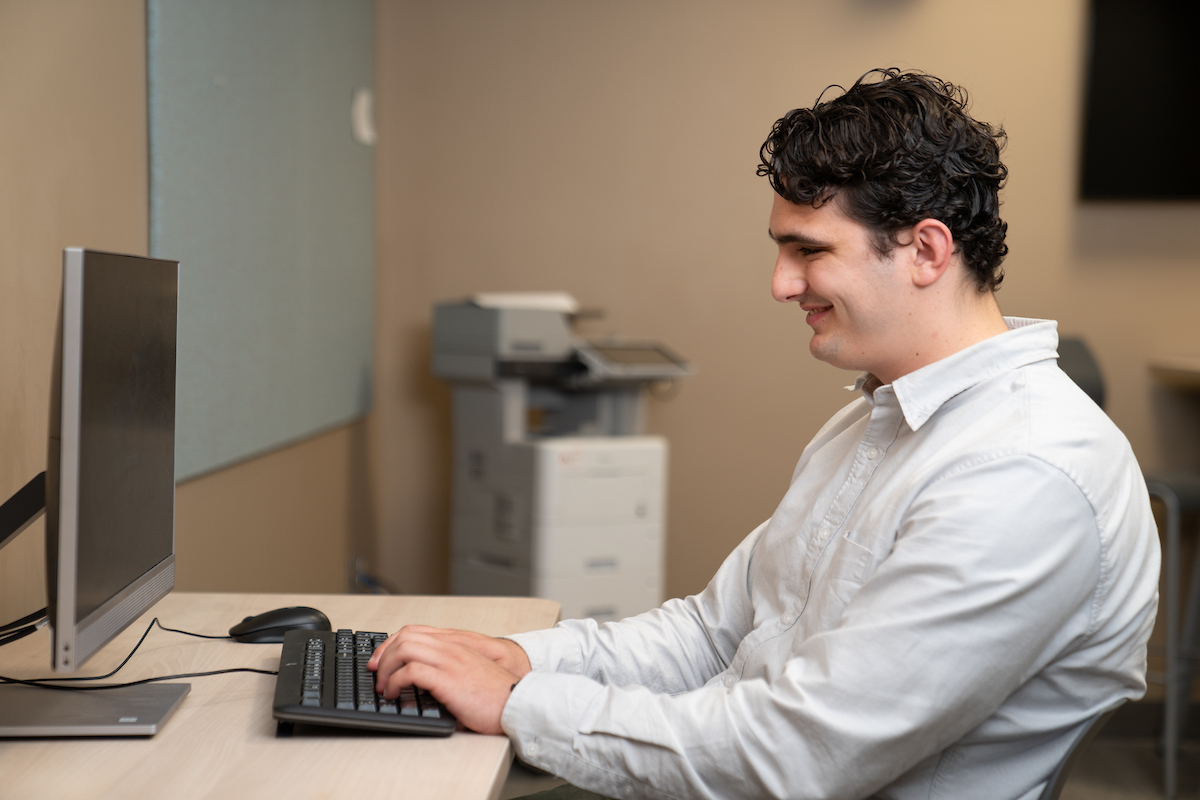 Donnelly's work day starts around noon in the office cafe or library, where he works on an 80-page sustainability report, breaking down the dense content into something he can later present to the entire organization. He's been busy drumming up support for a more robust sustainability program with a full time sustainability coordinator, much like the program at Aquinas. He hopes for improved signage and educational programming around sustainability, so visitors can take what they learn home.
Donnelly coordinates with supervisors on waste audits and meets with the communications team to produce signage and volunteer t-shirts. He's also supporting the communications team as they prepare for a zero-waste concert initiative on September 16. The goal for the sold-out Guster show is to reach a 95% diversion rate, meaning 5% or less of the event's waste goes to landfill.
As a former sustainability captain on the Aquinas men's lacrosse team, Donnelly is used to doing this work at events. With his leadership, lacrosse games consistently met the 95% waste diversion rate. In fact, these events are the model for Frederik Meijer Gardens' zero-waste concert initiative.
Before long it's time to prepare for the Ayers Basement Systems Tuesday Evening Music Club.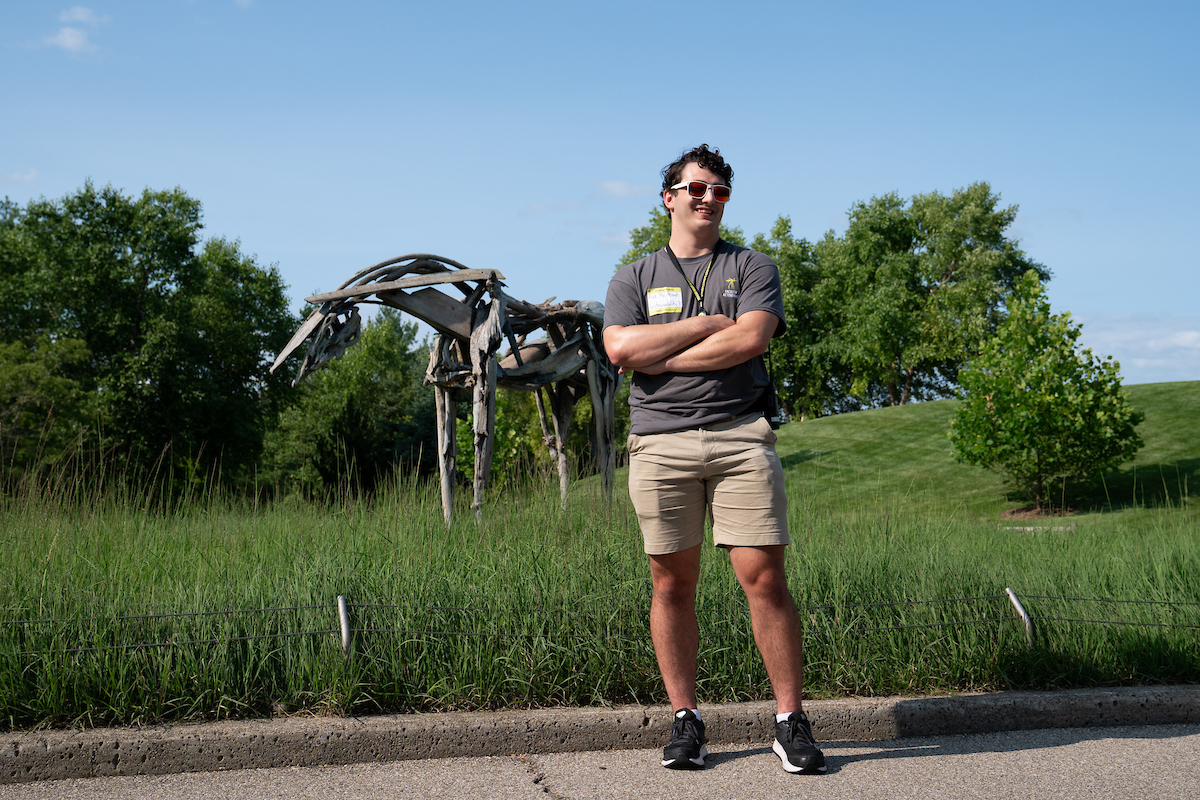 Donnelly changes into a t-shirt and shorts, pulls out the sunglasses and layers on the sunscreen for an evening outside. First, he grabs a cart full of buckets to place around the amphitheater by the recycling and trash cans for unfinished drinks and ice. Then he checks the volunteer list to see who he'll be working with this evening.
The first volunteer to arrive is Brian Chisholm, an '88 Aquinas Masters of Management program graduate. He's set up a folding chair and has a trash picker tool ready to go. Tonight's band, 6 Pak, is already doing a soundcheck as Chisholm and Donnelly have a quick chat.
The venue quickly fills up, so Donnelly takes his position at the cans on the right side of the amphitheater with his "Ask Me About Sustainability" name badge. One attendee tosses a plastic cup into the blue bin for recycling. Another has a plastic bag that heads into the trash bin. Sometimes someone will pause, looking between the different bins, and Donnelly will point them in the right direction. When a can ends up in the wrong bin, he reaches in and drops it into the right one. He's certainly not afraid of getting his hands dirty.
"I get to work in an office setting, in like the business corporate format, but I also get to go out and dig through dumpsters and get that hands-on aspect," says Donnelly. "So I have both sides of sustainability which are super important. I feel like I need a blend of both in order to do the job the way I want to."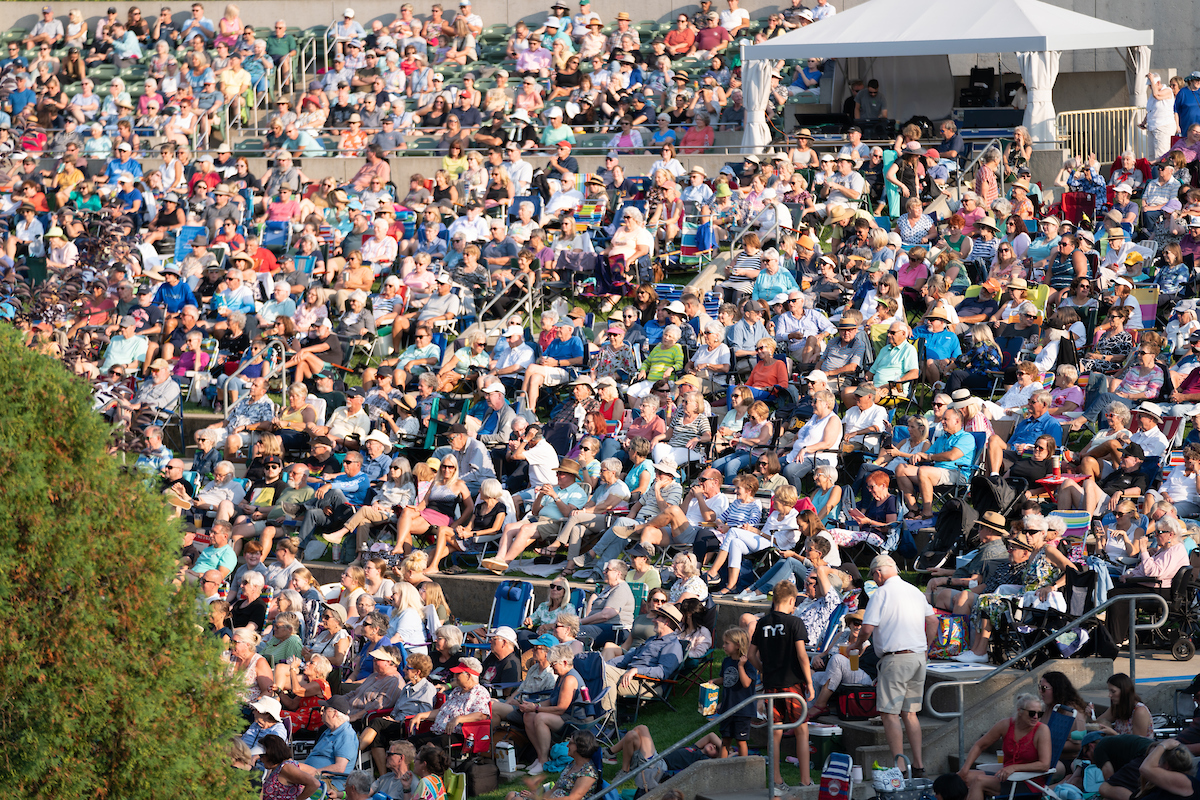 6 Pac starts their set at 7 p.m. sharp. They're an all-girl group that once opened for the Box Tops and headlined for Louis Armstrong in the '60s. The band has now partially reunited with a few new members. Playing classics like "Oh, Pretty Woman" and "Build Me Up Buttercup," 6 Pac has people up and dancing in front of the stage right away.
It's a perfect sunny evening and Donnelly gets to enjoy the music while he works, checking on his volunteers and making stops at all the waste stations to ensure everything is properly sorted. He educates community members young and old about why waste sorting is important and how they can implement strategies in their homes. Most attendees are receptive, but there are some skeptics. Donnelly understands and he's ready to help.
"It's a big change, especially for some older generations, to try to make that push towards more recycling and more composting, and it can be a lot trying to remember what to sort where," says Donnelly. "A lot of people don't have the luxury of being a sustainable business grad from Aquinas."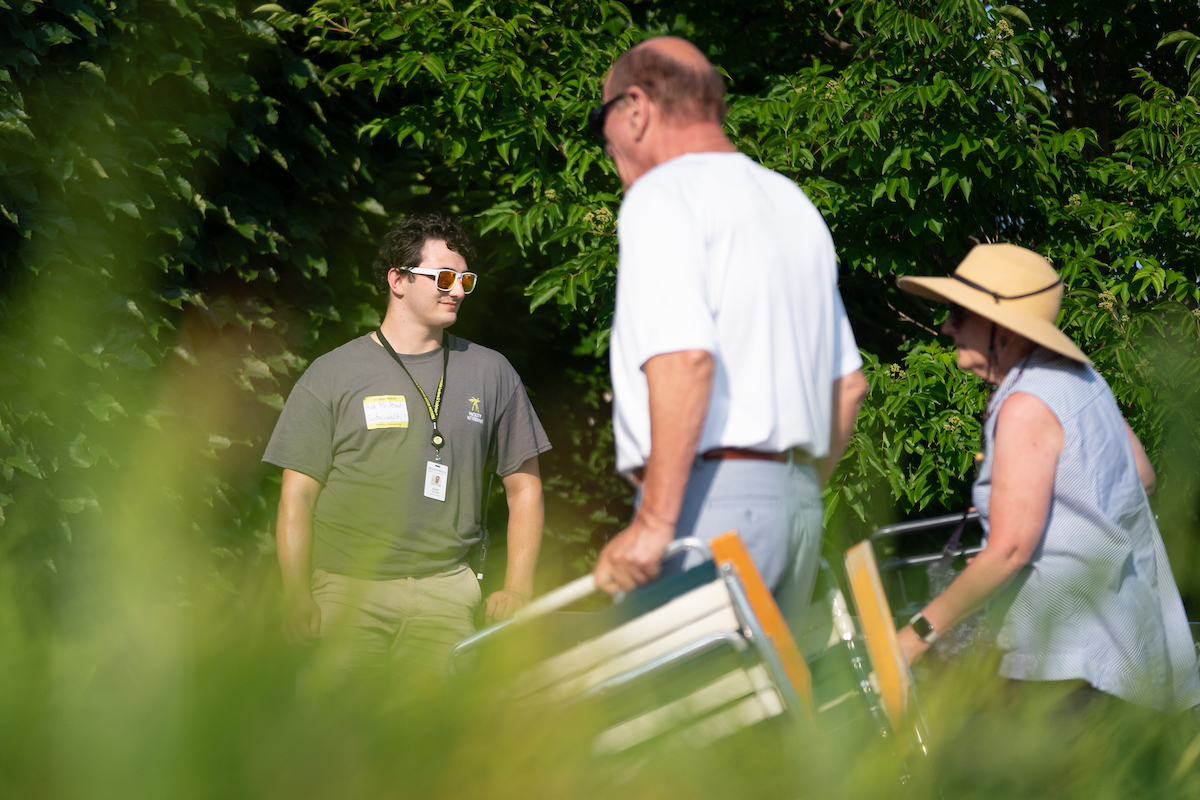 As the music wraps up and the last guests head towards the parking lot, Donnelly is tasked with rounding up the bags and returnables. He counts the bags to calculate diversion rates before heading to work on the buckets of liquid waste, which he cleans with an eco-friendly soap that's safe for our waterways.
This was a particularly packed Tuesday concert, and the evening ended smoothly. Donnelly still has lots of great shows to look forward to this summer. He's particularly excited about the zero-waste concert, even though it will be his last with Frederik Meijer Gardens before he goes on to something new.
"It's gonna be a great night to kind of kick off the end of summer kind of back to school, but also like, one more last hurrah," says Donnelly. "So I get to enjoy it until then."
Donnelly is now beginning his job search and he's excited about the future. He's made great connections at Frederik Meijer Gardens and will be looking for work where he can use his knowledge of sustainability to support the natural spaces he loves. We can't wait to see where he goes next!
See Donnelly in action at his internship in the video below.