By Dr. Linda Keway and Brigid Avery
Photos by Grace Giroux
A version of this story first appeared in The Saint
For the third year in a row, students, staff, and faculty embarked on a cultural learning trip to the home of the Little Traverse Bay Bands of Odawa Indians (LTBBO) in mid-October of 2023.
Dr. Linda Keway, a citizen of LTBBO and a professor at Aquinas College, and Brigid Avery of the Aquinas College Advantage Center - served as the trip's coordinators and advisors. Fr. Jordan DeGuire from Campus Ministry also attended as an advisor and led the group in several reflections. The group was greeted at the LTBBO Government Center by Tribal Chairperson Regina Gasco Bentley, Vice Chairperson Stella Kay, Executive Director Phil Harmon, and Eric Hemenway, Director of Repatriation, Archives and Records for the LTBBO.
The group from LTBBO prepared a traditional meal for Aquinas visitors of delicious corn soup, fried bread, squash, fish, and wild rice. "Chi Miigwech" (thank you) to them for a wonderful meal and for leading everyone in prayer.
The trip was a collaboration between Aquinas College offices of Campus Ministry and Advantage Center with support from TRIO SSS for the purpose of engaging with the Little Traverse Bay Bands of Odawa Indians. Aquinas' guide for the weekend was Eric Hemenway who took the group to locations throughout northern Michigan that held spiritual, historic, and sometimes traumatic significance to the tribe and the Anishinaabe people.
The group's first stop was the area of the former Harbor Springs Holy Childhood Boarding School. Mr. Hemenway shared the history of the boarding school as well as the 800-mile canoe trip that left Harbor Springs for Washington D.C. in 1835 to convince Congress to allow the Odawa people to remain in Northern Michigan. At the time, other tribes were being forcibly removed to Oklahoma and Kansas.
The Aquinas group then traveled to Greensky Indian Mission where tribal leaders historically gathered.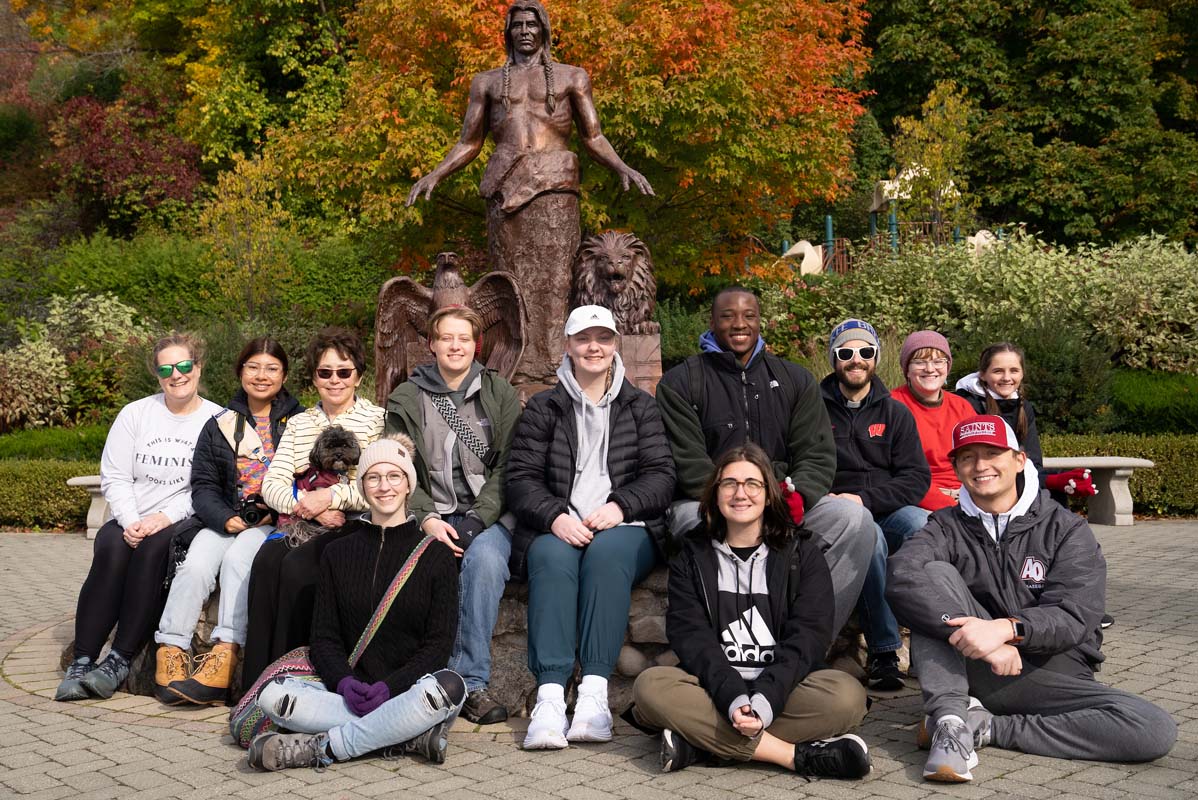 The group also traveled to Cross Village and Mackinac Island where Mr. Hemenway and Dr. Keway shared the history of the areas and their significance to the Anishinaabe, particularly, the Odawa people. The Island is a sacred place to Anishinaabe people and many believe it to be a place of origin.
The group visited the "Be Still" bronze sculpture which features a Native American spirit of peace alongside an eagle, lion, and turtle.
The group also toured the Biddle House Anishinaabe Museum and hiked to Arch Rock learning more about the history and culture of the Anishinaabe people.
"What an impressive group of students, and what an exemplary experience. This kind of experiential mission-aligned, justice-centered program is exactly what Aquinas College is all about." – President Alicia Córdoba