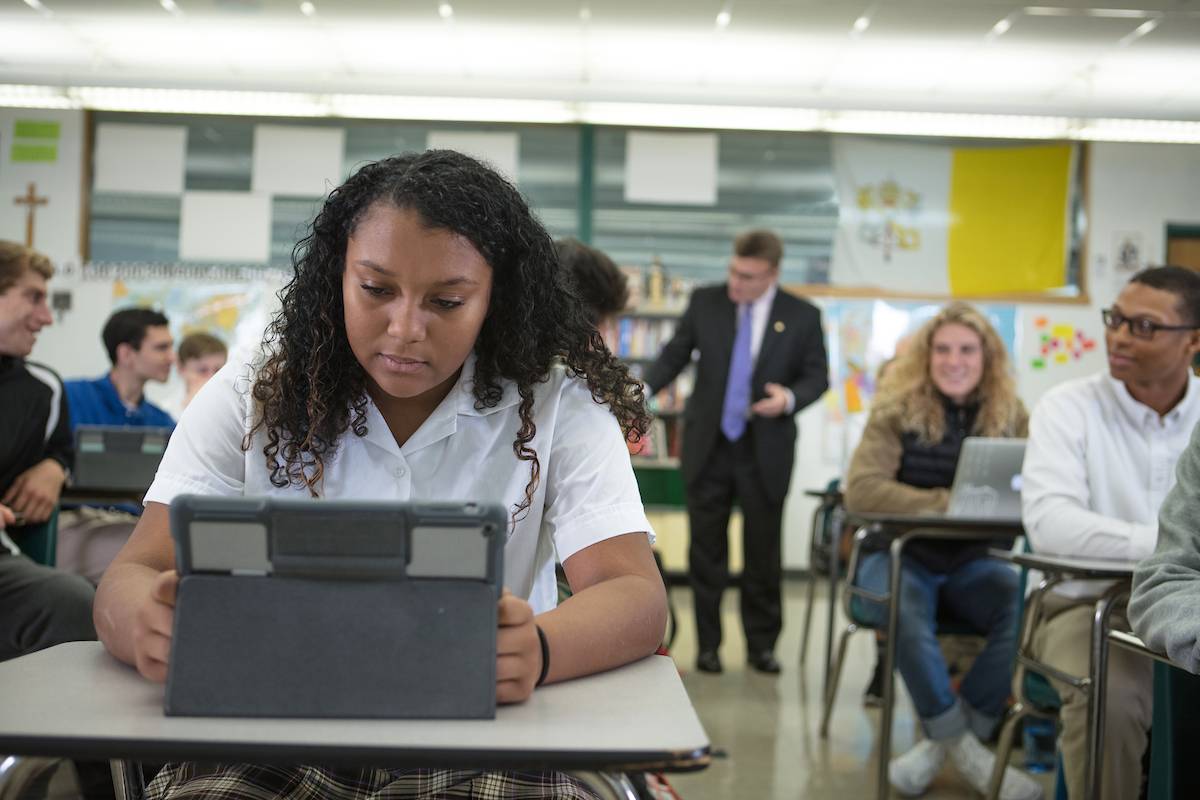 Dual enrollment offers some exciting possibilities for high school students. Eligible students can take college courses and receive college credit while still in high school.
We offer courses for dual enrollment in two local high schools: Grand Rapids Catholic Central and West Catholic High School. Courses are taught by Aquinas College professors on the campus of the high school. There is a designated classroom on each campus where students can feel comfortable yet ready to begin their college career.
We also offer opportunities for dual enrollment on our campus.
Learn more about application requirements:
---
A candidate for admission to the Dual Enrollment program at their school program is considered on the basis of academic preparation including high school academic record, character, and ACT, SAT or other nationally normed standardized test scores in absence of an ACT or SAT score. The Aquinas College Admissions Office evaluates each application individually and works with the high school guidance counselors on admission. Aquinas College reserves the right to accept or deny students into the dual enrollment program on a case by case basis.
The tuition per credit hour for dually enrolled students is $295 per credit hour for up to 11 credits. Your school district or the State of Michigan will be billed directly for payment at this discounted rate upon submission of the completed high school dual enrollment eligibility and payment form. Any remaining balance is funded individually or through prior agreements with the high schools. Please contact Lindsey Hansen, Director of Admissions and Dual Enrollment Coordinator, with questions at (616) 632-2878 or
ljh001@aquinas.edu.
Please complete the free online application for admission to the Dual Enrollment program. Remember to include:
Official high school transcripts
ACT/SAT scores (if available)
Your high school's dual enrollment eligibility and payment form (available from your guidance counselor).
Once we have all the information above, students will be admitted and work with their guidance counselor on registration for classes.
In order to transfer the credits you have earned at Aquinas, please contact the Registrar's Office at (616) 632-2866.
AT150 History of Art and Architecture
BY150 Human Biology
BY123 Environmental Biology
CN101 Introduction to Communication
EH115 Understanding and Appreciating Literature
EL100 Introduction to Environmental Studies
GY101 Earth Environments
HY101 American History
HY102 American History
KN146 Nutrition, Exercise and Stress
MS*Math Courses
PH101 Introduction to Philosophy
PH111 Logic
PS101 American Government and Politics
PS150 The World in Crisis
PG100 Introduction to Psychology
SY101 Introduction to Sociology
WL*World Language Courses

(French, German, Japanese, Spanish)
* Math and World Language course number is determined by your placement test results.
Note: This is a recommended list. Other courses may also be appropriate. When selecting classes be sure to check for pre-requisites. All courses may not be available all semesters. Be sure to check the schedule to see the dates and times that your desired courses meet. Evening and Saturday courses are generally reserved for upperclassmen.