Business Administration - Sport Management
It's time to find your path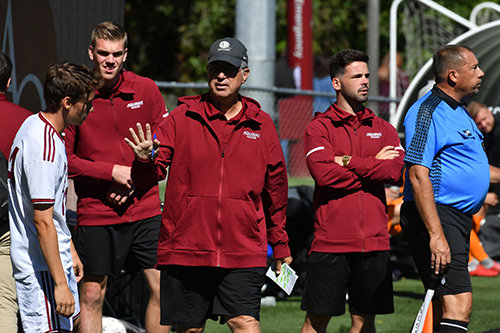 The Business Administration/Sport Management major prepares students for entry level jobs in the sport industry including but not limited to; tickets sales or game day operations, sales and marketing, manager or coordinator for facilities and events, for all sport industries like professional sports and amateur sports, sport apparel, corporate sponsors and outdoor pursuits.
Community partnerships and internships provide real-world application and hands-on learning experience. As well as, alumni are well placed and respected in their fields, providing students with a network of contacts for internships and employment.
Explore Sports Management at AQ
Career Preparation based on leadership
The mission of the Kinesiology Department, in support of the mission of Aquinas College and grounded in the liberal arts tradition, is to prepare each student for a career that promotes movement, activity, and lifelong learning, and the role these factors play in the development of a whole person.
Upon completion of the program students will:
Demonstrate competence in the sales processes of needs analysis, presenting solutions, overcoming objections, closing the sales, and after-sales customer service needed for entry-level positions in the sport industry.
Demonstrate proficiency in sport event planning and management process including creative design, time-framed sequential plans, and evaluation of event success.
Apply fundamental marketing and promotion concepts to the sport industry and the unique aspects of the sport consumer and sport product markets.
Identify and analyze risk management concerns in the sport setting and how to mitigate the risk to themselves and the organization.
Apply the skills learned in their coursework in real-world settings while developing their resumes to prepare them for career advancement.
The Outstanding Sport Management Major of the Year Award is the highest honor given annually by the Department of Kinesiology at Aquinas College to a Sport Management senior.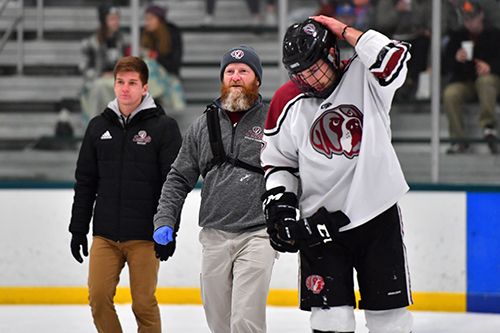 Aquinas excels at bringing students opportunities for hands on experience within their field.
IMAGINE THE POSSIBILITIES
Professional Sport Front Office Jobs
Operations
Hospitality
Community relations
Public relations
Advertising
Promotions
Marketing
Ticket sales
Ticket office
Corporate sales
Jobs in Athletics
Athletic director
Assistant AD
Academic coordinator
Business Manager
Compliance officer
Development
Public relations
Event/Facility manager
Marketing/promotions
Ticket manager
Equipment manager
Sport Information Director
Coach
Fitness Jobs
Membership director
Operations
Marketing
Sports coordinator
Recreation Jobs
City or County Sports Coordinator
Summer Camps
Collegiate Director of Intramurals
AAU offices
Other sport management related jobs
Sport sales/marketing for non-sport companies (ex: State Farm, Meijer, NBC Sports et al, GM)
Sport Commissions
Olympics
USA Sports
Major/Minor League offices
NCAA et al & Division offices
Agents
Licensing
Want to make yourself more marketable for different sport management jobs? Considering adding a minor or concentration to your academic lineup. With over 50 minors to choose from, you can tailor make your education to fit your career goals: (see examples below)
Sport Management Career Goal
Minor or Concentration Choice

Sales or Marketing

Public Relations

Agent

Sport Finance

Coaching

Recreation field

Athletic Director

Licensing

Fitness field

Community Relations

Marketing minor or concentration, Communication minor

Journalism minor

Legal Studies minor

Accounting or Economics minor

Coaching minor

Recreation minor

Coaching or Communication minor

Legal Studies minor

Exercise Science minor

Community Leadership minor
85%
Employed or Grad School within 6 Months
100%
Students do Internships